Brandon Hyundai Operations During Covid-19
Morgan Automotive Operations during the Covid-19 Pandemic
We are living in challenging times in the United States during the Covid-19 (Coronavirus) pandemic. All at the Morgan Automotive Group have worked hard to ensure that we are here for you during this time and are providing the safest most comfortable experience we are capable of providing for sales and service. Below is a summary of what we are doing daily inside of our automotive stores.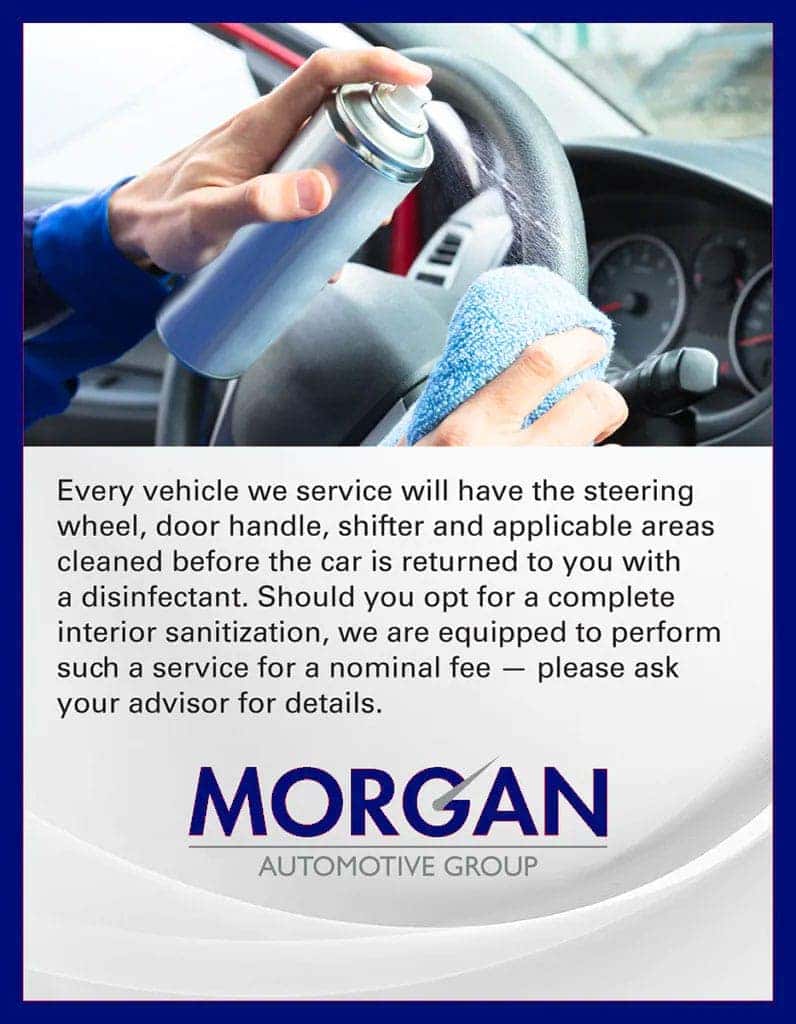 Facilities:
1) We have increased our dealerships sanitization efforts and the frequency of dealership cleanings.
2) High traffic surfaces and common work areas are being sanitized at a high frequency. We have worked with our suppliers to ensure that hand sanitizer and other products are readily available.
3) Each dealership has been further applied with an anti-microbial agent which will deter the ability for viruses and bacteria to linger on dealership surfaces.
Personnel:
4) All dealership personnel are adhering to strict CDC guidelines related to social distancing and in some cases additional provisions set forth under new local ordinances.
5) We have reduced staff counts in part to meet current demand but also to make it more feasible to meet social distancing requirements.
6) Any employee exhibiting any symptoms or illness are asked to head home for a minimum of 14 days.
Customer Experience:
7) Many of our stores offer pick up and service delivery. Contact us through our "schedule service" pages on each dealership website.
8) All service vehicles are returned only after having all "high-touch" areas sanitized. They are also sanitized at reception.
9) We will be offering an additional complete sanitization as well as an anti-microbial interior vehicle treatment for service customers at a reasonable cost.
10) We are encouraging customers to utilize our digital retailing capabilities to "shop online." In most Morgan stores 90% of the transaction can be completed online and over the phone. We also are happy to deliver your new or used vehicle directly to your home.
11) In many of our stores additional customer waiting areas have been made available outside of the walls of our dealership and our internal waiting areas have been modified to comply with social distancing recommendations and requirements.
Hours and Capabilities:
12) In many counties where we do business "stay at home" or "safer at home" orders have been issued by the local government. In each case (as of 3/26/20) our dealerships have been considered "essential services" as a provider of automotive repair and transportation and remain open for business. (4/2/20 update) This has remained true under the Florida "Safer at Home" order enacted on 4/1/20 by the Governor of Florida.
In other words we are here for you. While Covid-19 has changed the way we live temporarily, it has not altered the need you may have for tires, oil changes, batteries, automotive repair, vehicle purchases, body repair etc.
12) In many cases we have adjusted our hours. Please visit our individual dealership websites and Google My Business listings for the most accurate and up to date hours for each department.
---